N.B. Tambourine
Welcome to the N.B.Tambourine web site.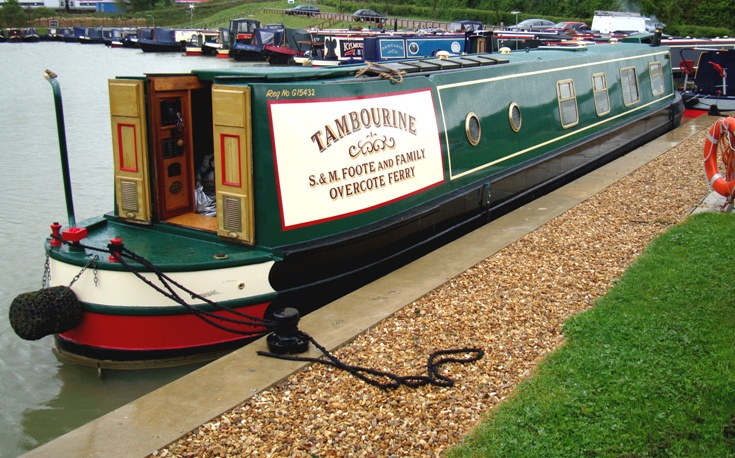 These web pages are about the designing and construction of 'Tambourine', a 50-foot narrowboat built for us by Associated Cruisers in 1998.
We hope to add more features to the site soon, including some pages about Tambourine's predecessor (N.B.Drifter) and - now that we've found the missing log-book - Drifter's predecessor, M.C. Elizabeth.
We built the site because we like looking at other peoples' boaty web-sites so decided to try and make one of our own. It also gives us something to do on cold dark winter evenings when we can't be boating and it keeps us out of the pub (sometimes).
We've also included some pictures of our Bearded Collie dogs. They like canal and river cruising too. In case you were wondering, the dates of birth are absolutely genuine! They were both born on the same day; just different years.
We hope you enjoy your visit. Please call by again.
Steve and Meg
P.S. Apologies for the indifferent quality of some of the early pictures; many of them were scanned from prints that weren't especially good to start with. We have done the best we can to sharpen them up! However we now have a digital camera - so hopefully the quality of later photos will be better and the site will be faster to download.
Prints were taken with an Olympus AF1, scanned with a Lexmark X75 scanner/printer and messed about with using MGI Photosuite III SE. Early digital pictures were taken with a Praktica DC21; from the beginning of 2007 with a Canon Powershot A550.
In May 2010 I accidentally dropped the Powershot A550 into the chamber of Upware Lock on the River Cam. It has been replaced with a Powershot A1100.
This site was uploaded on 5th February 2005 and last updated on March 11th 2014.
Pages updated this time: Cruising log 2014
Copyright January 2005 onwards - S. and M. Foote.
To contact us - please e-mail to 'g4foh-at-tambourine.org.uk' (replacing the -at- with @)
Site hosted and maintained by Searchlight Ltd.